That was some breezy and hop-py, of course, pleasurable 2 days 2 nights Langkawi jaunt.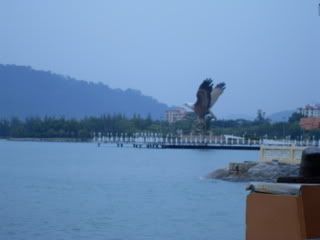 Hop-py, because we hopped
all around
the island, with a rent car. I was super proud to be the driver.
(Although stereotypically and conventionally, guys should be the ones driving, but I insisted on me driving cos I thought the guy drove too uncomfortably. and I DON'T LIKE)
We really
did
went
all around
the island. The famous tourist spots are so fffffar away from the Kuah Town, the place we stayed. Going to one spot to another takes about 30mins, even the beaches are far. -.-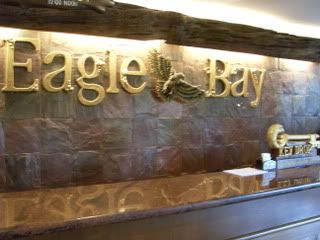 After some thorough research, Veen Dee managed to find us a decent hotel, the Eagle Bay, which costs us only a dirt cheap of 33 bucks for 2 nights+breakfast, for 3 pax in a room!
We reached late in the noon one our first day, so after grabbing some liquor, and I bought my apple juice, we went to the very-far-away beach at night.
I can't drink alcohol, so I bought apple juice as a substitute so that I can indulge in my 'beer', while my mates enjoyed theirs. I mean, they both have the same liquid colour, do you realise?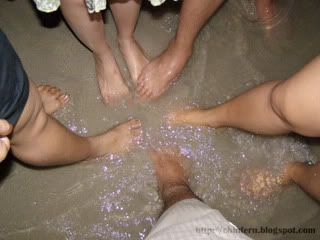 The next morning, we went for 'island hopping'. A guided boat-trip to visit the other islands around Langkawi.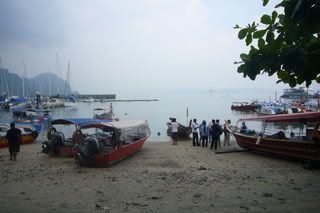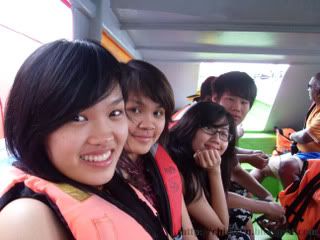 Our first destination:
Welcome to Beras Basah Island!
I did feel on the sand and nope, not 'wet'.


In fact soft and fine. I likey!

But with too many coral bits and sea shells, that makes you 'Ouch!' 'Ouch!' 'Ouch!' when you walk along the beach.

What more when I jump??! Especially so many times to get the best shot. Ooouuuccchh!
The hammock, half a size too small for me.


Someone left a straw for us the drink the rest of the sea water. They drank half already.
Veen Dee told me. -.-

We were given only 1 hour at the beach.
How I wish I could stay much longer..
See how mesmerising, how beautiful, how breath-taking, it is?
Photo credits to Esther Tee.
Next destination:
Eagle-feeding

And I innocently thought, hey, interesting, the eagles are so tame that they can actually tap the
food from your palms?
I want to feed! =D

Alas! I was too innocent!
The eagles are fed by our boat driver by throwing some animal meat onto the waters. Then our boat had to be driven some distance away from the food, so that the eagles won't harm us. They landed sharply, swift and 'drift' over the surface and 'whoosh' scoop up the meat, handsomely.

Third stop:
Dayang Bunting Lake


The lake was as hidden as it could be. It is an independant lake that is seperated from the waters we travelled in just now. We had to walk through a short hilly path to witness the wonderful creation.
On the way there, some unique 'creatures' disrupted our journey..
Aliens invaded Langkawi?!
I wonder how they twisted the piece of towel to make them look funny.
The lake was just beautiful. Blissful and tranquil...Back to the nature.

Esther and I got on a solar paddle boat to get a better feel of the lake.
'Leg in the Lake'
quoted from Esther Tee

Awesome ride. Awesome companion. =)



Last destination:
Gunung Dayang Bunting
Our boat driver stopped us in the middle of the sea and 'describe' the shape to us..huhu.
Dayang Bunting means Pregnant 'someone'. I don't know what's dayang and I don't know where have I put my dictionary. But for a wrong translation with a similar meaning is Pregnant Lady la.

When I came up on shore, to my suprise I saw myself..


on a plate. On-sale.

Thats why la, when I was on the bridge, before hopping on the boat, someone holding a camera, kept snapping and said: "look into the camera and...smile."
And I thought I was too pretty or maybe too popular that people want to take my photo. -.-
Huhu. This could be a good plate to eat my favourite dish of nasi lemak.
Of course, going to Langkawi, the renowed one and only Underwater World Langkawi shouldn't be missed. I mean, 'I thought' it shouldn't be missed. (Wait..Am I rite? Is it really the one and only Underwater World in M'sia?)
But after going in, aiya, miss also nevermind. It wasn't really a dissapointment but is just that I've seen something greater than this. So I don't need something not better than that rite?
And then the next morning, we bid farewell to..
Langkawi,

I enjoyed my holiday. =)